"First rate analysis at a cut-rate price."
— Creative Screenwriting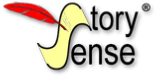 Fees include the cost of printing and handling (if electronic submission), postage for the return of your screenplay, treatment, or novel, and postage for sending you the audio CD of your consultation. Telephone connection charges are also covered.
Additional charges apply for screenplays longer than 130 pages.

Further oral consultation after one hour is $1.50 per minute.
We think of ourselves as collaborators. Our goal in this brainstorming session is to spark your creativity. We usually discuss your intentions with regard to theme, and whether this theme could be more fully realized. Our script doctor might advise you to telescope some characters, for example, focus on one particular character or plot thread, or even explore taking the story in a new direction. In one hour you will discover ways to make your work the strongest it can possibly be.
An hour-long discussion by telephone or in person, exploring ways your script, novel, or treatment can be improved. As you can see from our testimonials, writers find this exchange of ideas illuminating and inspiring. For your future reference (and to eliminate the need to make notes during the session) we send you a recording of it on an audio CD, or make it available for you to download as an MP3 file. An Oral Consultation is also part of our comprehensive Development Notes.